The opening day of Convention will feature a joint press conference to announce the rollout of a new component to Project Stand Up-Safe Schools, which will include a statewide anonymous texting program allowing citizens to standup for school safety in their communities, at 1:45 p.m. in rooms 6 and 7 of the Convention Center featuring Attorney General Marty Jackley, ASBSD, SASD, South Dakota Sheriff's Association, South Dakota Police Chiefs' Association and the South Dakota Department of Public Safety.
The new public safety tool, which the S.D. Department of Criminal Investigation has been working on, is optional for school districts to participate in and based on school safety concerns and is very similar to Project StandUp, which has been in place for anonymous drug tips since May of 2017. There is no cost to associated with the implementation of the program and it will be ready for launch for the 2018-2019 school year.
ASBSD and SASD have been involved in the discussion and development process and believe the Project StandUp for School Safety program is a good option for schools.
"The Project StandUp for School Safety program will offer school districts another component to enhance safety in their school buildings," ASBSD Executive Director Wade Pogany.
"Students' safety and well-being, both mentally and physically, is the top priority of school districts."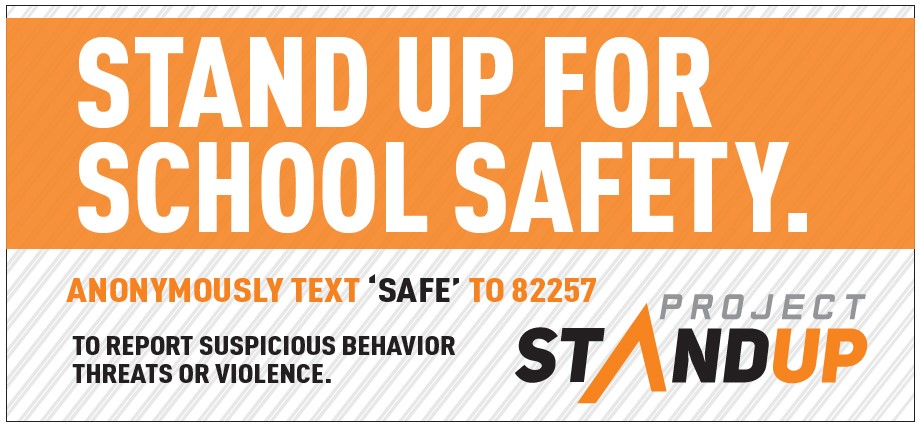 Project StandUp for School Safety is initiated by texting the word "safe" to 82257 followed by the submitting individual receiving a follow up text message with eight questions that, when answered in the ensuring text message, will result in an email being immediately distributed with the submitted information to the school officials, School Resource Officers and local law enforcement designated by the district and the law enforcement upon implementation of the program.
Additional information on the program will be covered at the press conference and attendees are invited to attend.