Shortly after 5 p.m. on the opening day of the 2016 ASBSD-SASD Convention a crowd of administrators and school board members gathered in the main hall of the Sioux Falls Convention Center for an announcement that was going to make one of them very, very happy.
For the third straight year, one Convention goer was going to walk away $500 richer thanks to the Secret Vendor drawing.
Last year's winner, Pierre School Board Vice President Cari Leidholt waited to see if she would be a repeat winner.
The 2014 winner…nope…wait…Melissa wasn't in attendance during that year's drawing. And that's a requirement.
Before the drawing, Wade was looking for a high five…
…but Rob had a job to do so he left him hanging.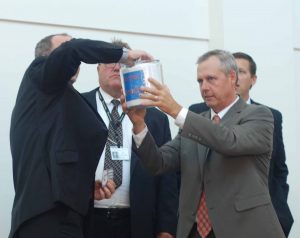 The time had come for representatives from the insurance and financial services firm, Horace Mann, who generously donated the funds for the secret vendor drawing, to select a winner.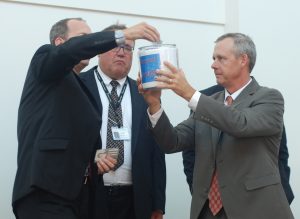 Lyman School District Superintendent Lynn Vlasman was the winner!
Congratulations, Lynn. Thanks to everyone who supported the vendors in the Exhibit Hall. The secret vendor will be back again next year!